History of Greenhill
The debate continues today; Is it Greenhill or Green Hill?
In 1850 "Andrew Jackson's Military Road" was changed to run by the home and store of James Hill, which was about one mile East of the old road way. The post office was then moved into the store of James Hill. Charles McClusky had the name of the post office changed from Cherry Grove to Green Hill in honor of Mr. Green Berry Hill, who was a captain in the Mexican War. He was a brother to James Hill.

Green Berry Hill, was born in Greenville County, South Carolina in 1803 and died in 1852 at Green Hill, Alabama. He was the son of Henry and Judith (Nabors)Hill. His first wife died in 1825 (name unknown). His second wife was Nancy Neilson Hicks. He is buried in Tabernacle Cemetary in Green Hill. He served as a Captain in the Mexican War and was engaged in the battles at Contreras, Churubsco, Molino Del Rey, and Chapultepec. He was in the battle that brought about the fall of the Mexican Capitol.

How Our Community Got Its Name!!!

As soon as land was ceded by the Chickasaw Indians and offered for sale by the government, white settlers immediately migrated from Tennessee, Carolinas, Georgia, Virginia, and Kentucky. It is known that a caravan of families from Moore and Cumberland counties, North Carolina had "Squatted" on Big Blue Water Creek about 1808-1810. Four or five years later they were forced to leave by the government at the request of the Chickasaws. As soon as the area reopened for settlement these same "Squatters" returned to live out their lives.

By an act of Congress-passed April 27, 181 6, "Andrew Jackson's Military Road" was begun which was to extend from the town of Madisonville, Louisianna Northward to the Tennessee River. By 1820 the road was completed to Nashville, Tennessee. During this time many stage coach inns were built and the town of Cornish was established. In 1830, a post office was established and George Kennedy was appointed postmaster. In 1841, the name was changed to Cherry Grove, and Charles McCluskey was postmaster. In 1850, the name was changed to Green Hill.

In 1823 the Kennedy Gun Factory was built by the Kennedy family from Moore County, North Carolina. It was located about four hundred yards East of Tabernacle Church and Cemetary. From 1840-1848 the Baugh-Kennedy and Company was established. This was a woolen clothing factory and was located on Cow Pen Creek about one mile West of Green Hill. This factory made Confederate Uniforms. Many water powered mills were built for grinding wheat and corn. They were located on Cow Pen Creek, Wolf Creek, Richardson Creek, O'Possum Creek and Hurricane Creek. The Brazil and Adams Distillery was located about 300 yards East of "Andrew Jackson's Military Road" near Little Blue Water. It was owned by Ruben Brazil and Thomas Adams and was considered a large operation.
Several schools were also built during this time. The Stutts School was built by Henry Stutts and ran from 1855-1880. It was located about one mile South East of Green Hill near Richardson Creek. The Tickville School was built in 1882 and ran until 1898. It was located at what is now known as upper Green Hill on the East side of "Andrew Jackson's Military Road". The North Carolina School was built in 1826. It was located about three miles South of Green Hill near Richardson Creek. It is believed that the school and church got its name because so many settlers came from the state of North Carolina. The Green Hill Academy was built by Charles Jeremiah McCluskey in 1869. It was a two story building and the upper story was used by the Masonic Lodge. Other schools in the area before 1930 were Alabama School, Arkdale School, Olive Hill School, Myrick School, Palestine School, Center Hill School and Sweet Gum Flat School.


The History of (T.M.) Rogers High School
The History of Rogers High School
In 1936, T.M. Rogers, Sr., (of Rogers Department Store), donated 10 acres of land a mile south of the Green Hill Academy for a junior high school. A brick building, including five classrooms, an office, a library, and an auditorium was built. Grades six through nine were moved to the new school, leaving the first grade throuhg fifth grade in the old frame building. The new school was named T.M. Rogers Junior High in honor of its founder.
In 1947, the tenth grade was added, and in 1948-49, the eleventh grade. In 1948, the remaining grades at the Green Hill Academy were moved to the campus of T.M. Rogers Junior High. In 1949-50, the twelfth grade was added, making it a campus of grades one through twelve. There were twenty-one seniors in the first graduating class in May, 1950. There were twenty-one teachers in 1950.

When the school became a senior high school, an additional 10 acre plot was given by the Rogers estate, making a total of 20 acres of campus.

In the early 1950's, the name was changed to Rogers High School. Full acreditation was granted in 1958. In the late 1950's it had the distinction of being the largest twelve-grade school in the state of Alabama.

The school has had a basketball team since its junior high days and won the county championship in 1938.


*Information from the Rogers High School Alumni Association.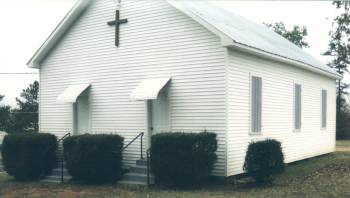 Old Tabernacle Church (Present Day Photo)
Grave Site of Mr. Green B. Hill
Present Day Photo